Our small group practice offers the opportunity at every visit for a patient to communicate one-to-one with her doctor and develop a partnership that will lead to improved health outcomes. Central Obstetrics & Gynecology, formerly known as Robert J. Wester, M.D., P.C., was founded by Dr. Robert Wester in 1987.

As a practice, the doctors provide comprehensive obstetric care including routine and high risk pregnancy and delivery.

In addition to providing preventive screenings and exams, the doctors also specialize in the medical and surgical evaluation of gynecological conditions including, but not limited to: menstrual irregularities, infertility, fibroids, endometriosis, pelvic pain, menopause, and sexual dysfunction.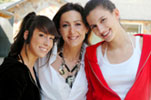 Located in Central Denver.
Accepting new patients.
Please call our office for the next available appointment.
Office Hours: 8:00 am - 5:00 pm
Monday - Friday
720-287-7560