Preventive Care

We offer primary health care to women of all ages, beginning with the teenage years.  This includes, but is not limited to, the annual well-woman examination:
Blood pressure check, vital signs, and weight monitoring
Pelvic exam with Pap screening
Breast examination
Cancer screenings
On-site health maintenance labwork for tests including cholesterol, diabetes, thyroid, etc.
STD (sexually transmitted disease) screenings
Diagnosis and treatment of vaginal and/or bladder infections (UTI's)
Counseling for a healthy lifestyle
Obstetrics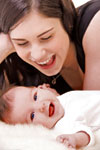 Our practice provides full-spectrum prenatal, labor & delivery, and postpartum care reinforcing a close partnership between the physician and patient with each visit to our office.
Prenatal Care:
Regularly scheduled appointments with your doctor
Onsite labtests and bloodwork
Ultrasound evaluations by your doctor
Management of high-risk pregnancy, in consultation with a Perinatologist, including hypertension, diabetes, twin gestation, premature labor, advanced maternal age, etc.
Close attention to diet, exercise, and a healthy lifestyle
Labor and Delivery:
Comprehensive care at the time of delivery at either Rose Medical Center or Exempla/St. Joseph Hospital
Postpartum:
a scheduled follow-up visit with your doctor for a wellness exam with attention to postpartum depression, birth control management, and counseling for a healthy lifestyle
Gynecology

Teenage Years
Annual preventive care with an emphasis on:
Menstrual disorders diagnosis and treatment
Contraceptive counseling
Gardasil® HPV vaccinations
STD diagnosis and treatment
Counseling healthy lifestyle choices